The next morning, we started our day with a class at Power Yoga and Movement. The slow stretches and deep breathing exercises had us so relaxed it was hard to leave the studio. Somehow, we managed to peel ourselves off the studio floor and head to The Depot Kitchen & Market to grab some breakfast. Since I'm trying to be on the healthier side, I went with their old-fashioned oats. They topped the oatmeal with creme fraiche, toasted pecans, apples, and local honey. Yum, absolutely delicious. This place was great because they had such a huge eating area. We ate inside but took our drinks outside to enjoy the sunshine on the patio. The service was spectacular, and their team consistently checked on us. After breakfast, the girls and I were extremely excited for our next adventure: glassblowing.
With the windows down and music blasting, we took a quick ride over to Mohawk Steel and Glass. We were greeted by the owner, who took us around his farm and introduced us to the cutest, friendliest goats. After snuggling baby goats (called kids, I later learned), we returned to the building to get started on our glassblowing. This was our first time blowing glass, so the instructor took us through each stage of the process, allowing an extremely hands-on experience. Our class was filled with laughter and memories, and we ended our lesson with three beautiful glass ornaments.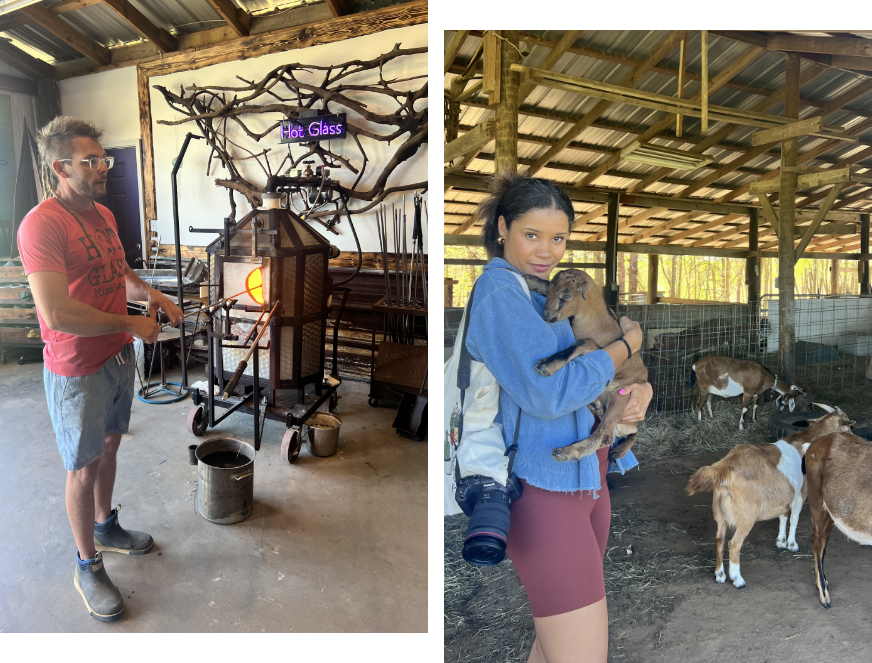 Left to right: Glass blowing; baby goats
After all the laughs and glassblowing, we needed to refuel our bodies, so we headed to Keg and Barrel to grab lunch. I've been so impressed with the food in Hattiesburg, and Keg and Barrel was no different. They, too, had a huge space for outdoor dining, which included a large, wrap-around patio and deck space. While basking in the sunshine, my friends and I ordered an assortment of appetizers, including wasabi tuna, pesto shrimp salad, fried green tomatoes, and fish tacos. It'll come as no surprise to you that the food did not disappoint.
With a full stomach, we took a walk downtown, where we stumbled across the Hattiesburg Pocket Museum. We'd never heard of anything like it, so we explored the special alleyway that featured the tiniest art gallery and theater in Mississippi. The outdoor exhibit displayed decorated doors from our favorite movies and shows, beautiful artwork, and tiny pieces that were fun to admire and decode. The miniature museum itself was quirky, and a local shared with us that the exhibit changed every month to keep people coming back.
Not too far from this fun alleyway is The Lucky Rabbit, the most whimsical, magical shop I've ever visited. It's a huge store that features an eclectic collection of fantastic and random items. From clothing and kitchen items to stickers and furniture, this store evoked beautiful memories of nostalgia. We spent over an hour getting lost in the variety of pieces, taking pictures in an old phone booth, and reminiscing.

Left to right: Hattiesburg Pocket Museum sign; Pocket Museum display; Lucky Rabbit sign; Craft beer festival music; craft beer festival mug; Lunch at Keg & Barrel
To wrap up our girls' getaway, we decided to check out the Hattiesburg Craft Beer Festival that was happening downtown. This was our first-ever beer festival, and it didn't disappoint. It featured more than 100 craft brews from local and regional breweries, each distinct with delicious flavor. While we obviously didn't get a chance to taste them all, the festival offered a huge variety ranging from lagers to ciders and even included non-alcoholic selections. We wandered the festival for hours, dancing to the live band, eating tacos and strawberry-dipped cheesecake, and, of course, enjoying beer samples.
Hattiesburg, Mississippi, turned out to be the exact gem we were looking for. A bit off the beaten path, full of one-of-a-kind activities, fantastic art, and delicious eats. We were able to explore, wander, and imagine. We'll be seeing you again soon, HBURG.
Plan Your Visit